The Hotshots of Bowls nude charity calendar goes on sale
After weeks of anticipation, Bowls International is delighted to officially launch The Hotshots of Bowls calendar for 2019, which is raising money for Cancer Research UK and Bloodwise.
Organisers Sian Honnor, Natalie Chestney and Lorraine Kuhler have already far exceeded their initial target of £2,000 and to date more than £8,900 has been raised including Gift Aid.
Almost 60 English bowlers, men and women of a variety of ages, have taken part in the nude calendar, which offers a humorous take on the game of bowls whilst aiming to promote friendship in sport.
The inspiration behind the effort is fellow bowler Hannah Overton, 29, who was diagnosed with Leukemia in July.
The calendar, which is sponsored by Bowls International, has received support from Taylor Bowls, Aero Bowls, Drakes Pride and Henselite.
Bowlswear Direct owners Chris and Pete Young have also pledged their generous support to the cause and will be the official distributor.
Calendars cost £10 plus postage, are available through the Bowlswear Direct website: www.bowlsdirect.com/product/the-hot-shots-charity-bowls-calender/
If you would like to donate instead, go to https://fundraise.cancerresearchuk.org/page/hot-shots-of-bowls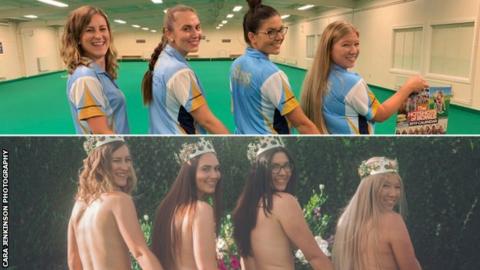 National club champions Natalie Chestney, Sophie Tolchard, Harriet Stevens and Cassidy Lenton pose with, and without, their clothes